A generator mechanic named Wissam Mohammed Kazem has been arrested on charges of illegally manufactured aircraft after taking off their homemade projects in southern Iraq, according to AFP on 12.4.
Kazem said he lost about 1.2 million dinars (1,000 dollars) to build the aircraft and take an additional 1 million dinar (about U.S. $ 850) cash bail.
The generator mechanic from the southern Baghdad district Rumaitha said he built the small aircraft engines from the metal tube, aluminum, wood and fabric over a period of seven months.
"The police arrested me in four hours when my plane took off first," Kazem told AFP by telephone.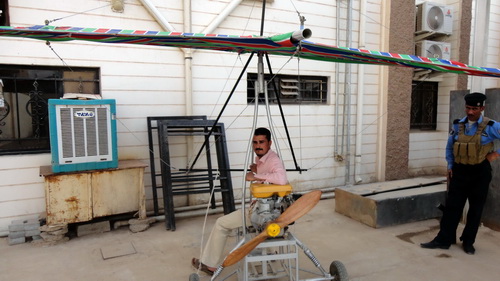 Kazem and planes of his homemade - Photo: AFP
According to this young 25 years old, his flight lasted 2 minutes. "They confiscated my plane under a court order," said Kazem continued.
Rumaitha Saaran district police chief confirmed al-Shammari Kazem was arrested and in custody for several hours due to aircraft manufacturing.
Day 4.4 of Kazem flight was his second attempt after failing three years ago.
Kazem expressed he decided to give up the dream flying machine. "I just want to avoid prosecution and return to work to pay debts", Kazem confided, although he urged the Iraqi government take to support the inventor as this will "serve the country".
Kazem Iraq was not the first self-made aircraft. In 1982, the city Aziziya, a 70 km south of Baghdad, a former nuclear industry engineer under Saddam Hussein - Amr Mohammed Jassem make a helicopter fly electrically operated which is two meters high on the roof home.