A strange creatures, dead washed ashore Folly, South Carolina, USA last week, sparking speculation both locally and on the Internet that we may have found the corpse of a monster the sea.
Strange creatures mantle yellowish brown jacket with blue patches dotted body. However, what makes seafarers and local residents feel is most amazing dimensions "framework" as well as broken bones like dinosaurs in the animal's flanks.
There is no precise information about the length of the "monster", but based on photos, Discovery channel suggest it to be longer than 3 meters.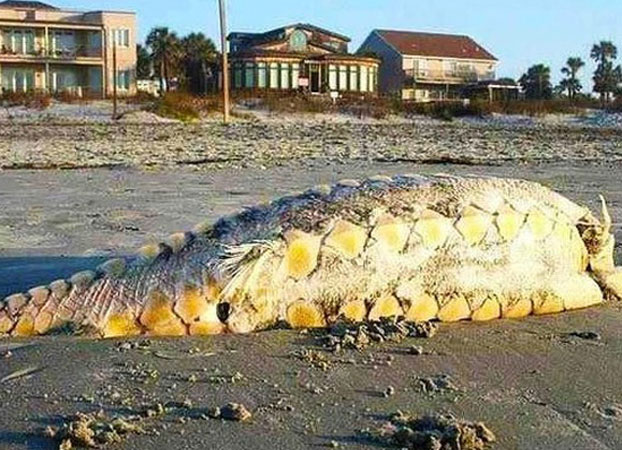 "Monsters" is a real Atlantic sturgeon
Like many body decomposing other organisms, determine the "monster" is picking up strange unpleasant odor. It offers a wealth of speculation about it, from a sea monster of dinosaurs to have mutated creatures as beasts toxic or chupacabra.
Panicky makes scientists into action. One of the first people to receive the "monster" that Dr. Shane Boylan of South Carolina Water Parks. Two important evidence to help Dr. Boylan asserts that individual creatures including broken bones and shape characteristics.
"Monsters" is a fact of the Atlantic sturgeon. The reason it is difficult to recognize it because sturgeon usually pale or silver, not golden brown anomalies as above. Skin color of the "monster" washed ashore South Carolina may have become discolored under a hot sun.
The alien identification is also almost exactly the dinosaurs because sturgeon species among the oldest bones ever existed on Earth. Do not be surprised if the sturgeon makes people panic because of their great shape. Atlantic sturgeon ever recorded up to 4.5 meters in length and weigh more than 226kg.
"Monsters" South Carolina is the latest instance of the many strange creatures washed ashore America recently. Earlier this past February, an animal anomaly "hairstyle" mohawk with tufts of hair bleached yellow, sun burns the skin and a pair of ferocious canines are also found on the coast of San Diego. It was later identified as opossums.